Leaving Coy's Hill (Compact Disc)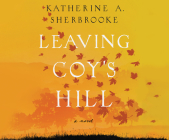 $59.99
Email or call for price.
Description
---
Born on a farm in 1818, Lucy Stone dreams of extraordinary things for a girl of her time, like continuing her education beyond the eighth grade and working for the abolitionist cause, and of ordinary things, such as raising a family of her own. But when she learns that the Constitution affords no rights to married women, she declares that she will never marry and dedicates her life to fighting for change. At a time when it is considered promiscuous for women to speak in public, Lucy risks everything for the anti-slavery movement, her powerful oratory mesmerizing even her most ardent detractors as she rapidly becomes a household name. And when she begins to lecture on the "woman question," she inspires a young Susan B. Anthony to join the movement. But life as a crusader is a lonely one. When Henry Blackwell, a dashing and forward-thinking man, proposes a marriage of equals, Lucy must reconcile her desire for love and children with her public persona and the legal perils of marriage she has long railed against. And when a wrenching controversy pits her and Anthony against each other, she makes a decision that will impact her legacy forever. Based on true events, Leaving Coy's Hill is a timeless story of a woman's quest for personal and professional fulfillment within society's stubborn constraints that is as relevant now as ever.