Lily Leads the Way (Hardcover)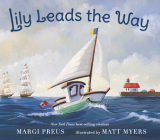 $17.99

Usually Ships in 1-5 Days
Description
---
A little sailboat has a big burst of determination when a fleet of tall ships needs assistance.

Lily the sailboat is small but sturdy, in a harbor full of enormous cargo ships, speedy fishing vessels, and bossy tugboats that all have somewhere to go. And something to say—mostly, "Out of my way, Lily!" But Lily has somewhere to go, too. Out on the lake, the tall ships are coming! To pass from the harbor to the lake, Lily must blow her horn and ask the lift bridge to rise—"Meee-me?"—but the big vessels' blasts are so much louder as they crowd her out and rock her with waves. Finally, Lily slips under just before the bridge goes down, her sails fluttering with excitement as she spies the majestic barquentine, schooner, and other grand old ships heading toward the now-lowered bridge. Silently! How will the bridge know to rise? Can Lily save the day? This tale of plucky persistence, illustrated with the splash and sparkle of a summer day on the water, is sure to empower any child to take charge when the time is right. A note from the author, a Newbery Honoree, offers more facts about bridges and boats for curious readers.
About the Author
---
Margi Preus, a New York Times best-selling author, wrote the Newbery Honor Book Heart of a Samurai and other novels, including the Enchantment Lake mystery series, The Littlest Voyageur, and Village of Scoundrels. Her picture books include Storm's Coming!, illustrated by David Geister; Celebritrees: Historic and Famous Trees of the World, illustrated by Rebecca Gibbon; and The Legend of the Lady Slipper, cowritten with Lise Lunge-Larsen and illustrated by Andrea Arroyo. Margi Preus lives near Lake Superior in Minnesota, not far from the bridge that inspired Lily Leads the Way.

Matt Myers is the illustrator of the Infamous Ratsos chapter book series as well as the picture books E-I-E-I-O: How Old MacDonald Got His Farm (with a Little Help from a Hen) by Judy Sierra and Pirate's Perfect Pet by Beth Ferry. Matt Myers lives in North Carolina.
Praise For…
---
The palette demonstrates just how many shades of blue water can be, and Myers adeptly portrays lots of waves and movement, bringing excitement to a mild body of water such as a harbor. . . . An engaging underdog story that's likely to float anyone's boat.

—Kirkus Reviews (starred review)

Myers's (Hum and Swish) lusciously brush-stroked oil illustrations combine anthropomorphism (Lily's deckhouse windows are a pair of bright, eager eyes), marine-scapes with purple-blue waters and creamy foam, and up-close action that's tense but never scary. Whether readers are old salts or landlubbers, they'll want to pipe this one aboard.

—Publishers Weekly

Raising your voice, no matter how small it may be, can help and even save those without a voice: that's the powerful takeaway from this picture book about a plucky little sailboat that saves a flotilla of tall ships . . . . The illustrations, done in oil paints, are stunning and give comic expressiveness to all the vessels. Exhilarating.
—Booklist

The painterly art, with fluid strokes and bold, contrasting colors, along with the playful text and performance-ready noises ensure storytime success, while Lily, so easily overlooked, will make a deeply relatable heroine for little ones. Readers will not only get an education in boat types but bridge types as well.
—The Bulletin of the Center for Children's Books

Young readers will delight in the illustrations and be pulling for little Lily, perhaps even giving a cheer when she comes through in the end.
—Sailing Magazine

Cheerful. . . This is a satisfying story about how even the smallest among us have something to offer. Matt Myers' buoyant oil illustrations of the deep blue waves of Lake Superior and rugged green hills of Duluth make us feel like we're right there.
—The Star Tribune