Mousy Cats and Sheepish Coyotes: The Science of Animal Personalities (MP3 CD)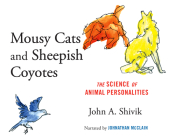 $24.99
Email or call for price.
Description
---
Why are some cats outgoing, and others standoffish? Why are some dogs adventuresome, others homebodies? As any pet owner can attest, we feel that the animals we've formed bonds with are unique, as particular (and peculiar) as any friend or loved one. Scientists, however, have only recently begun to accept the notion that animals of all kinds do indeed have individual personalities. Researchers are finding that each wolf, bear, and coyote has a different tendency to follow its predatory nature or to shyly avoid conflicts. Unique personalities can be discovered in every corner of the animal kingdom-including among insects and even microscopic organisms. The array of personality types among all species is only beginning to be described and understood. In Mousy Cats and Sheepish Coyotes, veteran wildlife expert John Shivik brings us stories from the frontlines of this exciting new research.