Doggie Paddlin' (Hardcover)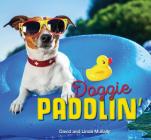 $14.95
Email or call for price.
Description
---
That first moment you learn to paddle is almost as much fun as the first time you take your dog along with you. Whether on a canoe or kayak, surf board or stand up paddle board, dogs can't get enough of the water. From paddling poodles to surfing sheepdogs, bring your furry best friend along for the ride and uncover hidden depths to their unique personality. Professional photographer David Mullally captures a dog's love of being on the water through a series of breathtaking, awe-inspiring, and hilarious images while Linda Mullally provides need-to-know information to help you get your dog on the water. Explore, laugh, and learn as these energetic dogs show us the true meaning of happiness.
About the Author
---
Linda B. Mullally and David S. Mullally have been sharing their hiking adventures in newspapers, magazines, television and radio interviews and audio-visual presentations for over 30 years. Over this time, the couple has coauthored five hiking guides, including their two most recent Falcon Press titles "Hiking and Backpacking with your Dog" and "Best Dog Hikes Northern California". These days, in addition to enjoying hikes with her husband and dog, Linda writes for the Monterey Herald, in a travel column called "Away We Go." David Smart Mullally is an attorney and a professional photographer, as well as the author of "Order in the Court- A Writer's Guide to the Legal System." Visit the authors at LindaBMullally.com and Falcon.com.