Nokum Is My Teacher [With CD] (Hardcover)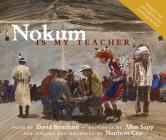 Description
---
Anskohk Aboriginal Literature Festival Winner, Children's Book of the Year 2007
Moonbeam Children's Book Awards, 2007 Bronze Medalist - Multicultural Picture Book Category
Alberta Children's Book of the Year nominee 2007
Canadian Children's Book Centre Our Choice, 2009
CD included with book
Will you walk with me, Grandmother? Will you talk with me a while? I'm finding life confusing And I'm looking for some answers To questions all around me At that school and on the street. You have always been here for me Will you help me learn to see?
Nokum Is My Teacher is the poetic story of a young aboriginal boy, posing questions to his grandmother, his "Nokum", about the wider world beyond the familiarity of their home and community. Through a series of questions, Nokum guides her grandson towards an understanding of his need to fit into and learn more about this large world beyond the reserve. Nokum offers her grandson a vision of a world he can enter through imagination and reading, while retaining respect for the ways of his people. By the conclusion of the book, the young grandson has learned many new ideas from his grandmother and discovered his own wisdom in dealing with the changes in his life.
Nokum Is My Teacher is a delightfully packaged book and audio CD, combining the written text in English and Cree with the mesmerizing voice of author/storyteller extraordinaire David Bouchard. It is illustrated by the hauntingly beautiful artworks of Allan Sapp, Cree elder, Governor General's Award-winner, and Officer of the Order of Canada. The singing and drumming are done by Alberta's Northern Cree, who have been nominated for a Grammy Award (2007) in the 'Native American music album' category.
Nokum Is My Teacher is also available in French/Cree text and audio as Nokum: Ma Voix et Mon Coeur.
This is the first of a series of aboriginal books David Bouchard is developing with Red Deer Press.
About the Author
---
David Bouchard has written more than fourteen books for children, including the classic If You're Not from the Prairie and Qu'Appelle. He is a highly popular and successful public speaker who regularly talks to educators, parents and children about books and reading. He has many years of teaching experience to draw from, and he uses that and his own cultural background to build bridges of understanding between the First Nations peoples and the rest of North America. Allen Sapp is an Officer of the Order of Canada and a member of the Canadian Academy of Arts. A Cree elder, he was raised by his grandmother on the Red Pheasant reserve in Saskatchewan and now calls North Battleford home. The memory of this tender relationship has spawned in Sapp some of his finest and most sensitive works, bringing to his canvas a sense of affection and love.