The Great Barrier Thief (Paperback)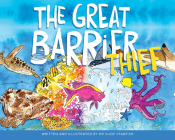 $14.99

Usually Ships in 1-5 Days
Description
---
"Did you know the coral colours are a warning sign? A global reef alarm?
We all need to do what we can to keep it safe from harm."
This story pictures the impacts of coral bleaching on the reef caused by human-induced climate change and it also illustrates a number of other challenges impacting the health of the Great Barrier Reef from coastal pollution, overfishing, marine debris and invasive species (such as the Crown-of-thorns starfish).
Anthia's journey through the Great Barrier Reef also draws attention to the beauty and diversity of the worlds largest living structure with many wonderful underwater characters to 'sea'. You will need to dive into the story to find out how Anthia and her friends find The Great Barrier THIEF and bring the colours back to their underwater home.
Through the art of marine science this story will help children to become aware of the impacts of climate change and coral bleaching on our reefs, along with everyday solutions to help 'cool' things down -- as we need to reduce our greenhouse gas emissions right away. Education and awareness through storytelling is a powerful way of engaging with children and their readers (eg. teachers, parents, grandparents, family, friends etc) as only through positive storytelling with solutions can we hope to change behaviours. Based on the latest marine science the last page of the story is dedicated to the science of coral bleaching caused by climate change, which is explained in terms early readers can understand and teachers can use as part of their classroom discussions and learning activities.
About the Author
---
Dr Sue Pillans has always been drawn to the ocean and as an Aussie marine scientist and artist she specialises in creative and visual communications to "Picture your ideas". Sue's deep devotion for the ocean is also shared by her alter ego, Dr Suzie Starfish, an Australian children's author/illustrator ('Authorstrator'). Dr Suzie Starfish uses the art of marine science and storytelling to engage, educate and excite children about the wonders of our living oceans. As a children's 'Authorstrator' she loves to use information and illustration to inspire the imagination and bring her sea stories to life through words and pictures - with a big splash of ocean optimism!
Cranky Frankie and the Oceans of Trash is the second in the series of children's picture books by Dr Suzie Starfish, which draws attention to important ocean issues and offers messages of science, solutions and hope, following her debut picture book, The Great Barrier Thief which illustrated the impacts of climate change on the Great Barrier Reef. By diving into her stories Dr Suzie Starfish wants to empower our future ocean stewards (our children) that they can to be the change they want to 'sea' in the world.