Where the Wild Moms Are (Hardcover)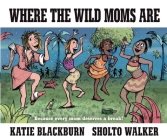 $14.95

Usually Ships in 1-5 Days
Description
---
In this hilarious, touching homage to Maurice Sendak's Where the Wild Things Are, a worn-out mom finds herself floating across time and space to the place where the Wild Moms are. Dazzled by her party tricks, they crown her Queen of the Wild Moms and try to entice her to join their conga . . . But Mom has just remembered who she loves best of all . . .
Lovingly illustrated by the award-winning Sholto Walker, this little book is the perfect gift for baby showers, new moms -- or any mom who's ever wanted to go on strike.
About the Author
---
Katie Blackburn lives in London with her husband and 18 month old son. Where the Wild Moms Are was written in tribute to Maurice Sendak's: Where the Wild Things Are, Katie's favorite children's book. It was partly inspired by too many sleepless nights and wild days spent with a young baby.